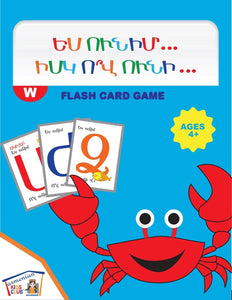 Armenian Alphabet Flashcard Game
This is a game that can be played by two or more people or by individuals who simply want to learn the Armenian alphabet on their own.  The flashcard game is also a very fun teaching tool for educators to use in their classrooms!  We've had lots of positive feedback from kids and educators as well.
The game is played by dividing the cards equally among the players and whoever has the first letter of the alphabet, goes first.  The first player says "I've got the letter "A", who's got the letter "H"? 
The person who has the letter "H" says I do, and proceeds to read what it says on the letter "H" card.  The game goes on until the last letter has been called out.
This not only helps kids get more familiar with how Armenian upper case and lower case letters look like, but they also get to sound it out.  On the back of each card, there's also an illustration and a word that begins with the letter on the front of the card. 
Flashcards are designed by Armenian Kids Club and printed in the U.S.
Features
Suitable Ages: 4+

Number of Cards: Full Alphabet with an instruction card

Dialects Available: Eastern & Western Armenian

Card Dimensions: Approximately 4.25" x 5.25"
---
We Also Recommend