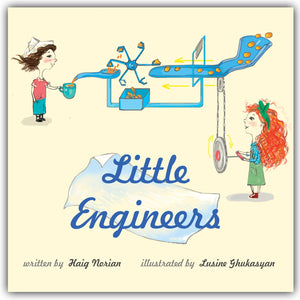 Little Engineers
When Kata and Meli realize that their mother's birthday is quickly approaching, it's a race against the clock to make the perfect present in time. Although they encounter quite a few hurdles along the way, the sisters are always ready to dust themselves off and think of interesting new ways of tackling the problem at hand. In fact, they learn quite a bit about computer aided design and manufacturing in their quest to create a truly unique gift for their mother. What sort of gift do they have in mind? Will they be able to make it in time?
It's never too soon to start learning about engineering...

The Little Engineers series combines playful rhyming couplets with fun and vibrant illustrations to discuss cutting edge engineering topics. Your kids are sure to have fun as they join Kata and Meli on an exciting engineering adventure.
---
We Also Recommend