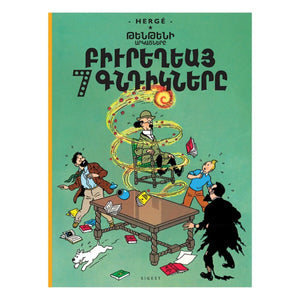 Pureghya 7 Kntignere - Բիւրեղեայ 7 Գնդիկները
TINTIN - Les 7 Boules de Cristal
Eastern Armenian
" … Au fond, je n'ai qu'un seul rival international… c'est Tintin ! ".
Général de Gaulle
Depuis sa création, en 1929, par Remi Georges, dit R. G. ou Hergé (1907 – 1983), créateur belge de bandes dessinées de génie, le succès mondial de Tintin ne s'est jamais démenti. Les albums de Tintin sont traduits dans la plupart des langues du monde.
Cet immense succès est dû à la beauté et la précision de ses dessins, aux personnages remarquablement typés, aux récits respectant les valeurs morales et traditionnelles et aux multiples gags remplis d'humour.
Les aventures de Tintin ont ravi et continueront à ravir les amateurs de tous âges. Les albums restent dans les bibliothèques pendant des décennies et passent d'une génération à l'autre.
Traduit par Rouzane et Jean Gureghian
The albums of Tintin were translated, since 1952, in the majority of the languages of the world. Thanks in particular to these multiple translations Tintin thus became a known character from China to Iceland, from Slovenia to Thailand… General de Gaulle made once a joke while answering a journalist: "… In reality, I have only one international rival… it is Tintin! ".
(c) Casterman
(c) Sigest
---
We Also Recommend