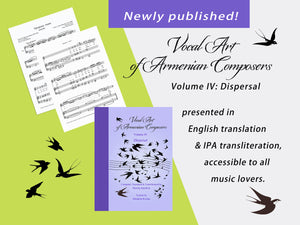 Sponsor a Library
Sponsor a library!
After three long years, Volume IV of the Vocal Art of Armenian Composers series has been published. 
In the past, thanks to our generous donors, we successfully sent copies of the previous volumes to over 80 Universities and libraries across the United States, Canada, and Armenia. We also extended copies to individual musicians. However, due to our current post-pandemic economic situation which resulted in an absence of sponsors unlike ever before, we are unable to fulfill the same prerogative. 
As we have done with previous volumes, we would like to send complimentary copies to North American and Armenian universities and libraries for educational purposes. 
At this time, we are implementing an "Sponsor a Library" program. We ask if you would kindly like to sponsor an institution for $50 CAD. 
Pick the country where you would like to sponsor a library from the list below and a book will be donated to the institution in your name. You will receive a confirmation by email.
50$ covers the cost of the book as well as shipping.