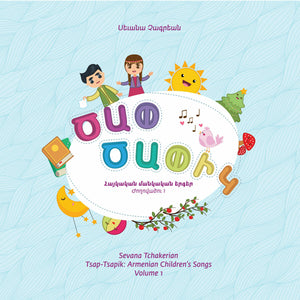 Tsap-Tsapik Children's Song Cd
The Tsap-Tsapik album is a collection of 20 children and family-friendly Armenian songs regrouping both folk classic tunes and original compositions, in both Eastern-Armenian and Western-Armenian.
The album has been recorded in Armenia, and features Armenian folk instruments such as the duduk, shvi, zurna, pku, blul, dhol, daf, saz, tar and the kamancha. Conceived for both children, parents and teachers, Tsap-Tsapik brings freshness and vitality to the children's music world!
Tsap-Tsapik's original work has been conceived, produced and performed by French-Armenian musician and educator Sevana Tchakerian (Collectif Medz Bazar), in collaboration with Yerevan-based arranger and multi-instrumentalist Garegin Arakelyan (Gata Band). Featuring renowned târ player Miqayel Voskanyan and the Karakert Children's Choir.
Tracklist :
Ջա՜ն, ջա՜ն, ջա՜ն, աշուն է / Jan jan jan, ashun e - 2:12
Կաթսային մէջ / Gatsayin mech - 2:05
Ձկնի՛կ, լո՛ղ տուր, լո՛ղ արա / Dzknik, logh tur, logh ara- 1:38
Ես կը սիրեմ կարմիր արեւ / Yes ge sirem garmir arev - 1:47
Սագերը / Sagere - 0:50
Արեւ՛, արեւ՛, ե՛կ, ե՛կ / Arev arev, yekyek- 1:43
Լորիկ / Lorig - 1:21
Ջա՜ն, եղեւնու ծառ / Jan, yeghevnu tsar - 1:26
Զար-զընկը / Zar Znge - 1:58
Ծափիկ-ծափիկ ծիրանի / Dzapig-dzapig dzirani - 1:26
Մատիկներ / Matikner - 1:48
Ջա՜ն, ի՛մ գնդակ / Jan im gndak- 1:19
Գարուն եկաւ, կանաչ հագաւ / Karun yegav, ganach hakav - 1:45
Պաղ աղբիւրի սառը ջուր / Pagh aghpyuri sare jur - 1:19
Մեր բաղի դուռը բաց ա / Mer baghi dure bats a - 2:18
Լուսնակն անուշ / Lusnagn anush - 1:40
Զնկլիկ օրոճ / Znklik oroch - 1:40
Կովիկն ու կաթիկը / Govign u gatige - 1:35
Մեծ հայրիկին ակնոցը / Medz hayrigin agnotse - 1:46
Ա՜խ, գարուն է, գարուն է... / Akh karun e, karun e - 2:43
Arrangement : Garegin Arakelyan & Sevana Tchakerian
Mix & Mastering : Garegin Arakelyan
---
We Also Recommend