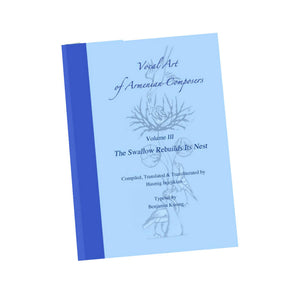 Volume III - The Swallow Rebuilds Its Nest
Volume III - The Swallow Rebuilds Its Nest: Love Songs and Romances

Compiled by Hasmig Injejikian.
This volume focuses on émigré songs, and is dedicated to all those who have, by choice or by force, emigrated, been exiled, or deported from their homeland.
The project's purpose is to bring the vocal art of composers who survived the Armenian Genocide to new generations of Armenian and non-Armenian singers, musicians, and audiences.
With literal, poetic and idiomatic translations as well as IPA transliteration, these songs are accessible to all.
Discount available on orders of 10 copies and more.
Please contact hasmigi@gmail.com
---
We Also Recommend